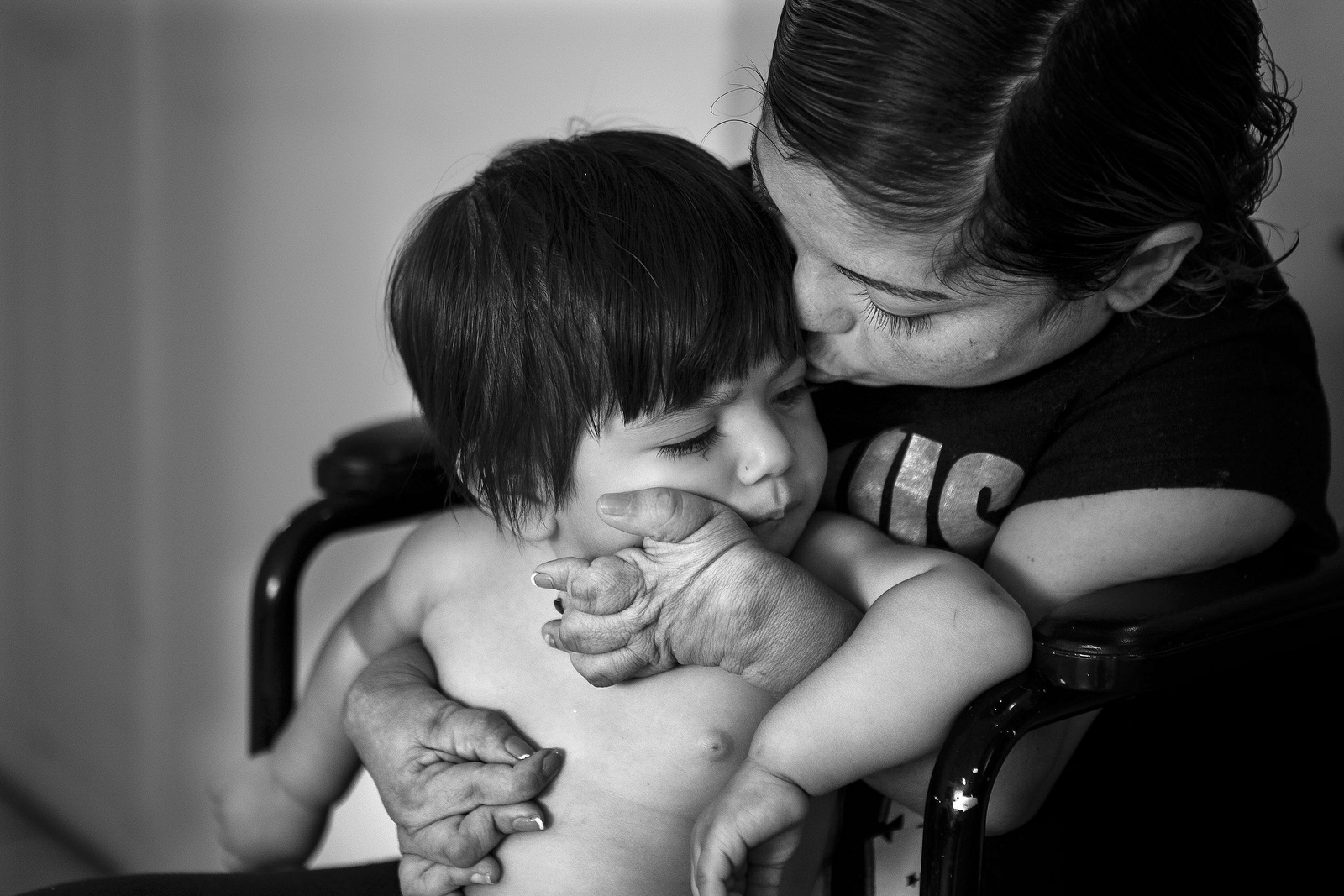 Rosa Caceres kisses her daughter Daniela Figueroa, 11 months, at their home in Lake Worth on Wednesday, November 18, 2015. Rosa has debilitating rheumatoid arthritis which forces her to use a wheelchair. Sometimes the pain in her joints is so bad that Rosa cannot even feed herself let alone hold her daughters.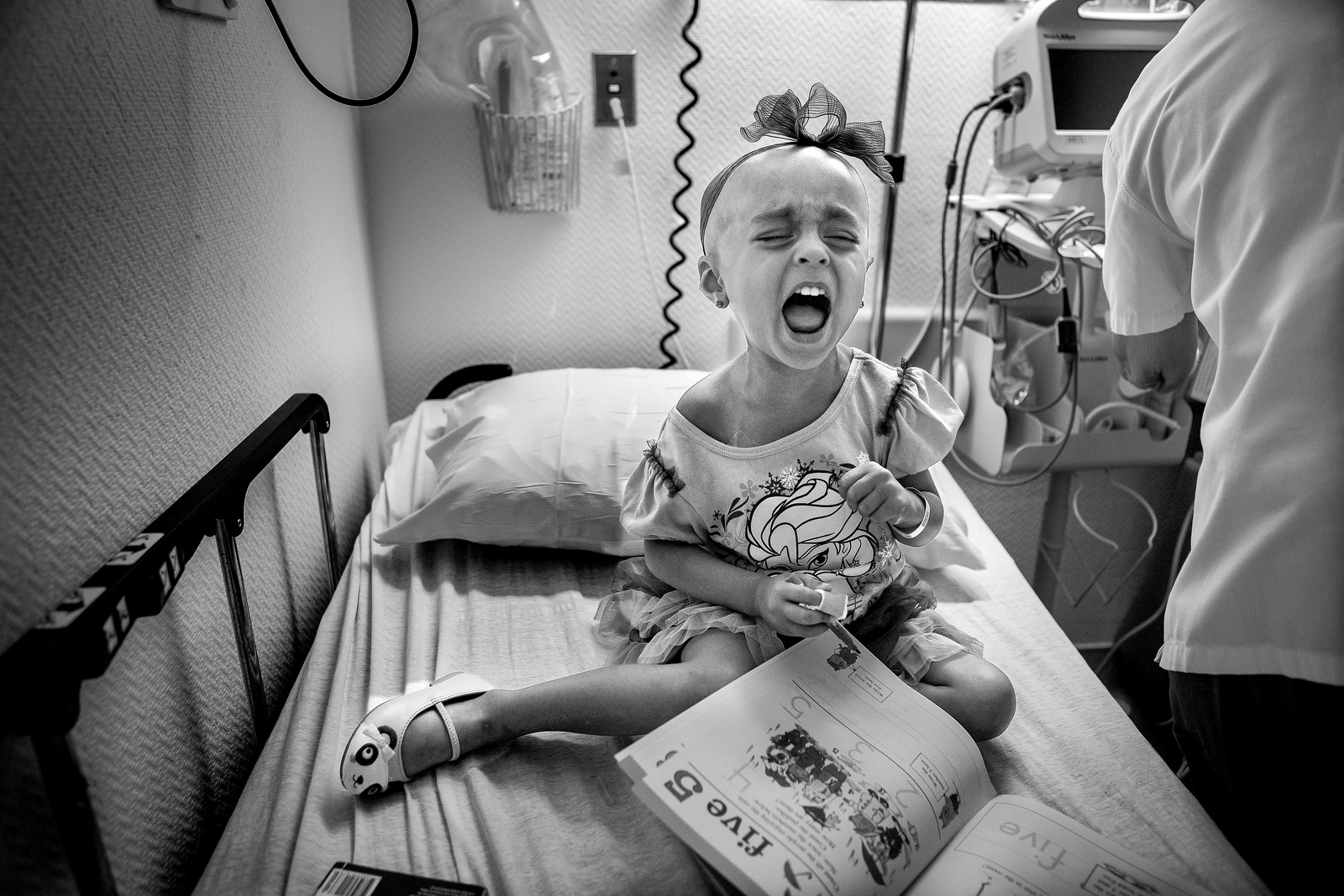 Veta Smart, 3, cries before undergoing a bone marrow biopsy at St. Mary's Medical Center. Veta was diagnosed with acute lymphoblastic leukemia this year and will have to undergo several years of often difficult treatment.
Michael Gutierrez feels the pressure of being the sole wage earner for his family of four especially after recently losing his primary day job. While their son was in the hospital undergoing major skull surgery to correct his craniosynostosis, Jennifer Gutierrez injured her foot and is now forced to use crutches to move around the house. She already suffers from multiple sclerosis which often leaves her too tired to take care of the house and her two boys.
Jacob Gutierrez, 4, swallows medicine from his mother after undergoing a series of major skull surgeries. When Jacob was a baby, he had to wear a helmet, but his family hopes that this will be the last surgery he will need to correct his craniosynostosis.
Holes in the ceiling mirror those in the floor of Charles Asaro's home in Hobe Sound. At 98-years-old Charles has been living in th3e house for nearly 40 years despite it being in desperate need of repairs.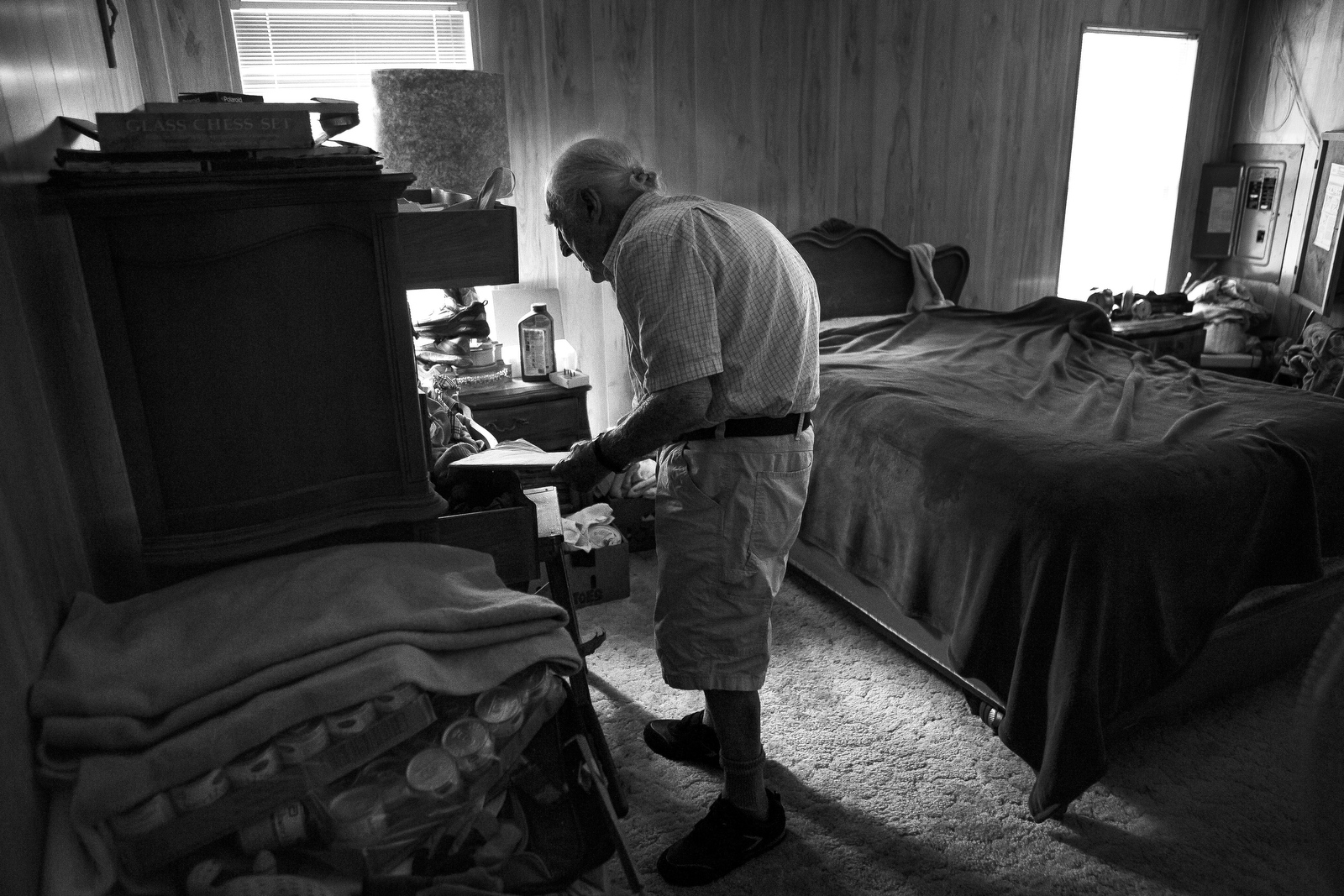 Charles Asaro, 98, stands in the bedroom of his home. He has lost much of his eyesight and although he fell into a hole in the floor of his bathroom, he would prefer to continue to live independently.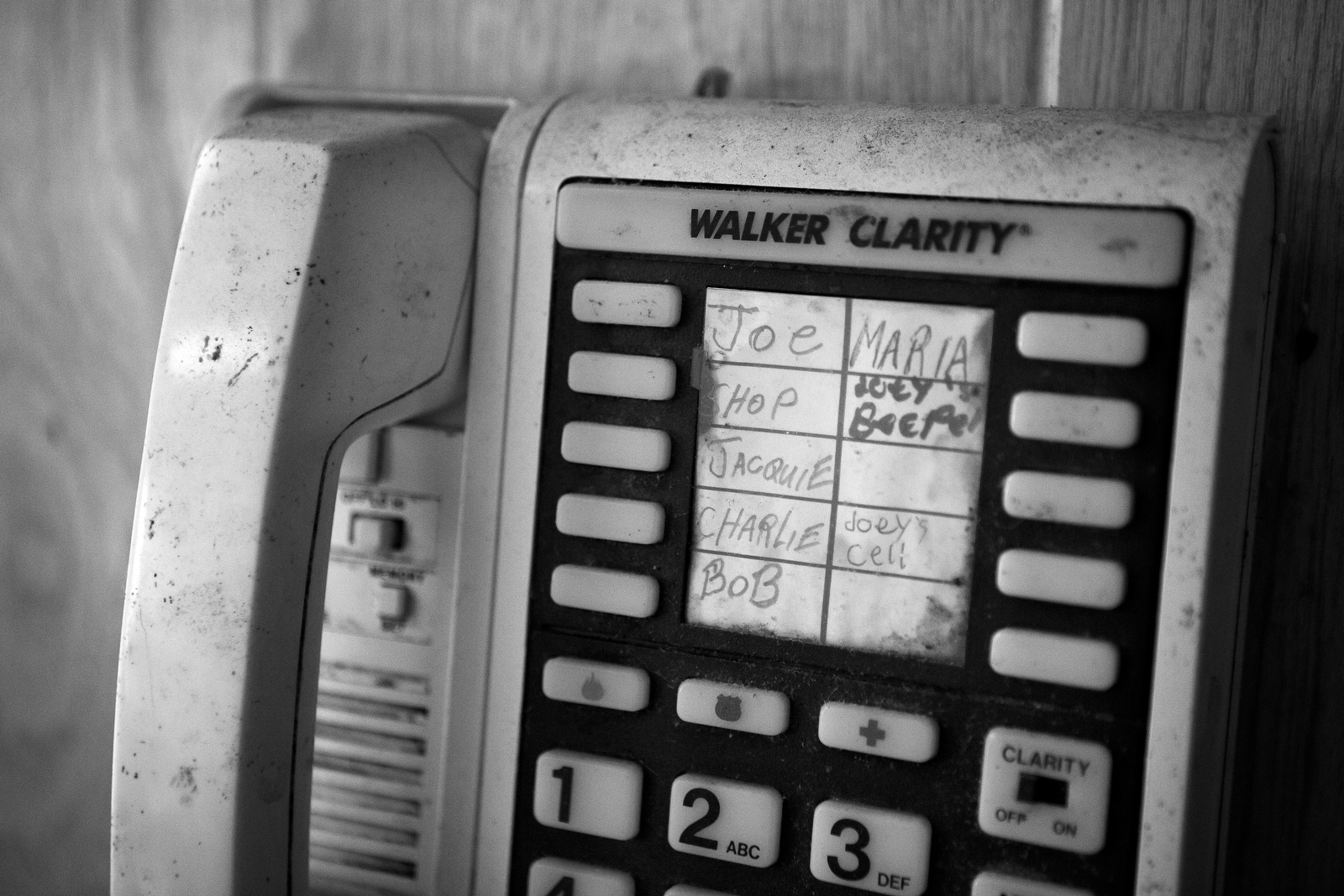 Important names are noted on Charles Asaro's phone. At 98-years-old Charles has lost much of his eyesight but for the most part, he can still maneuver around the house he has lived in for over four decades.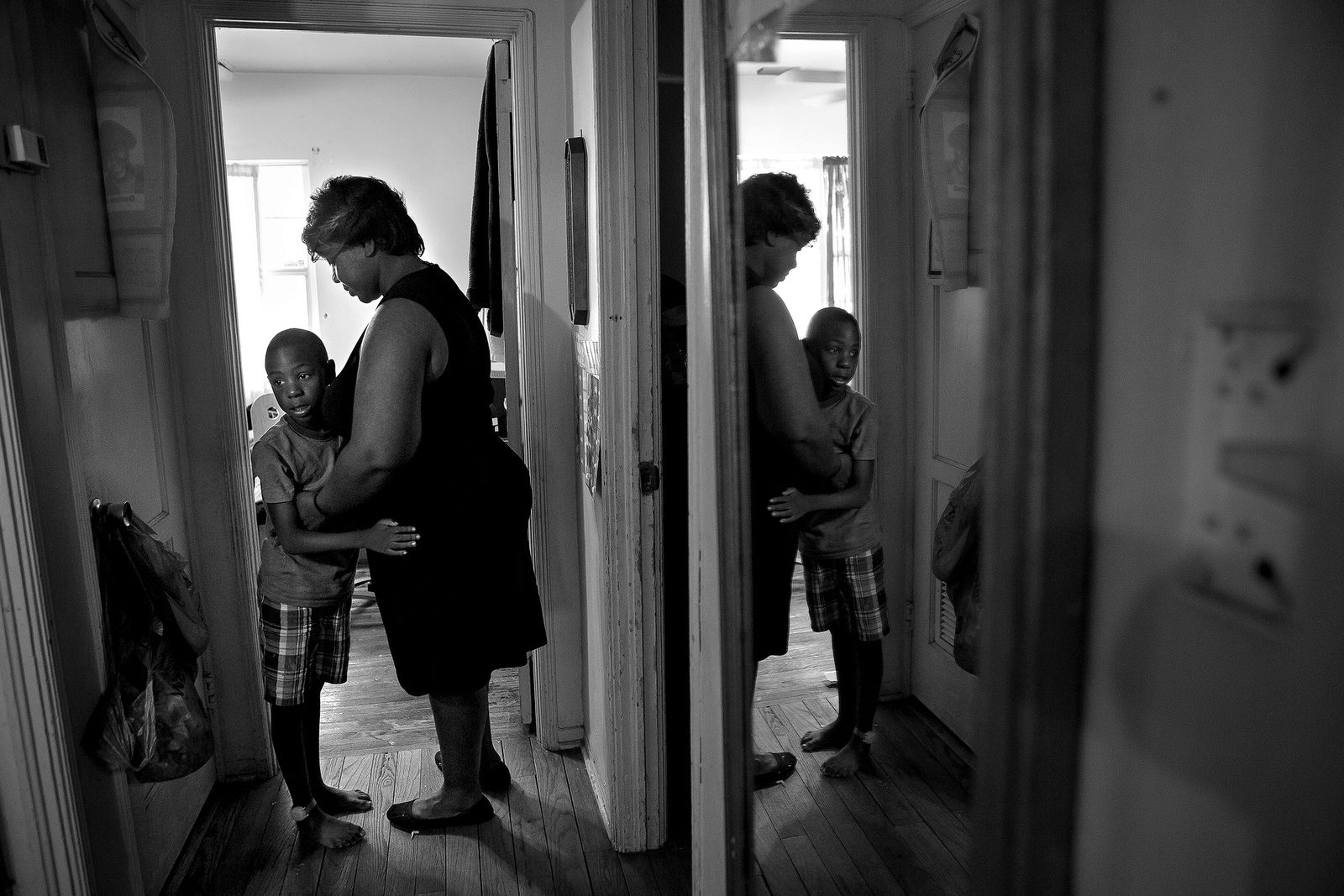 Odarius Tripp clings to his mother Angeline making it obvious whey she often calls him her shadow. Both Odarius and his brother Omari have severe autism, and although the boys wear ankle monitors, the family has numerous locks on all external doors. Angeline is constantly afraid that one of the boys will wander out of the yard and she will not be able to protect them from a world that they have a very difficult time navigating.
Six-year-old Odarius plays the keyboard and although he does not communicate very much verbally, he can play music and type complicated words and sentences on the computer. When complex medical terms started to appear on the family's computer screen, Odarius's parents each though the other adult must have been doing the typing.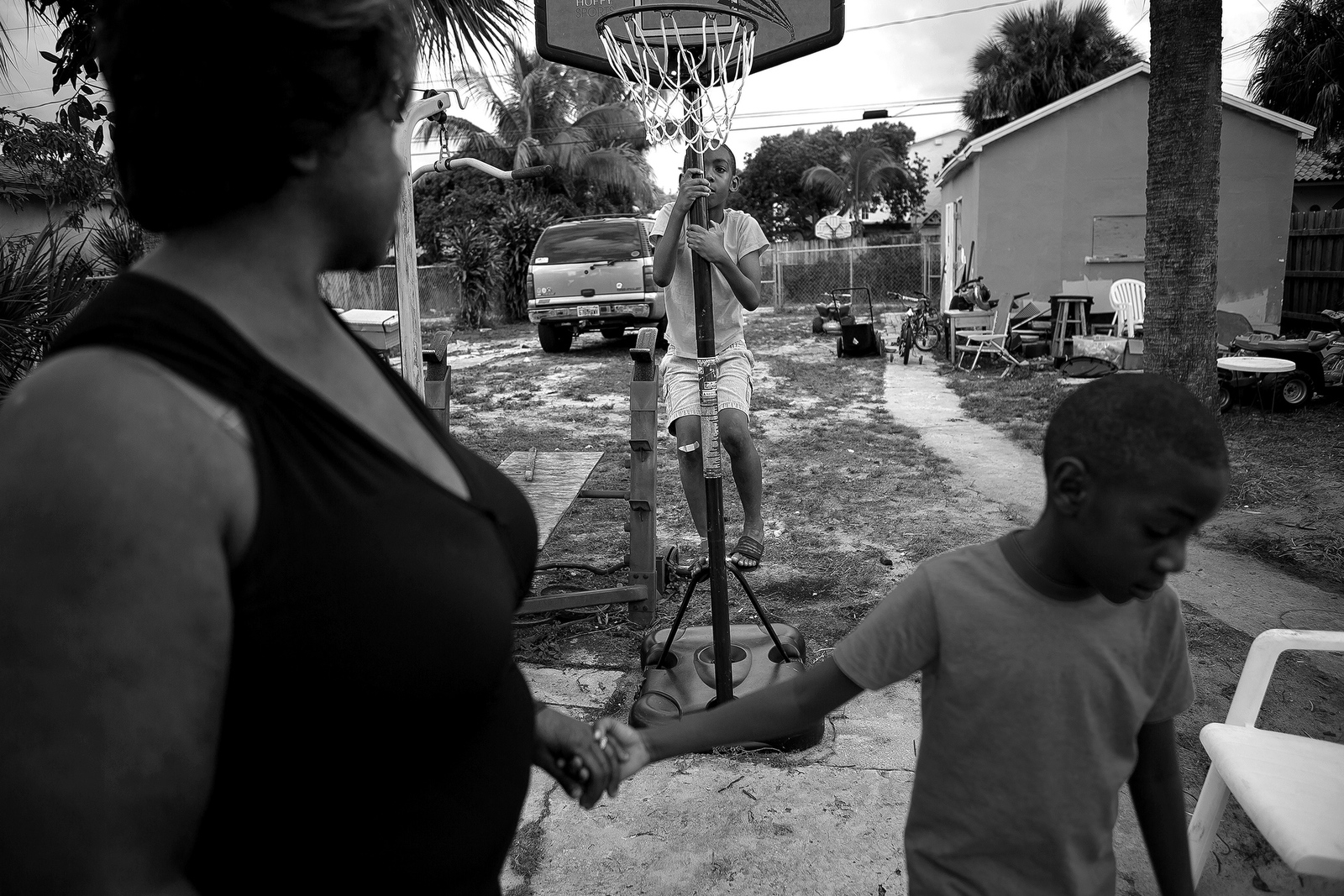 Omari Tripp, 8, climbs up the basketball hoop in his backyard as his brother Odarius, 6, pulls their mother Angeline back inside. Both Omari and Odarius have severe autism and require nearly constant supervision.
A Bible rests on the dashboard of a nearly broken down car that is the Tripp family's only source of transportation. Angeline and her husband Odell spend most of their resources trying to provide a safe, secure environment for their two autistic sons. However, Angeline recently complete chemotherapy for uterine cancer and Odell suffers from complications due to diabetes.
Jarvaris Washington sits in his son's bedroom in their home in Belle Glade. Jarvaris went to special classes to become certified to drive a truck for the sugar cane companies to increase his wages. However, he is still the sole wage earner for his family of eight. The house that the family lives in is full of mold, has sewage that leaks into the yard and many other issues that make it nearly uninhabitable.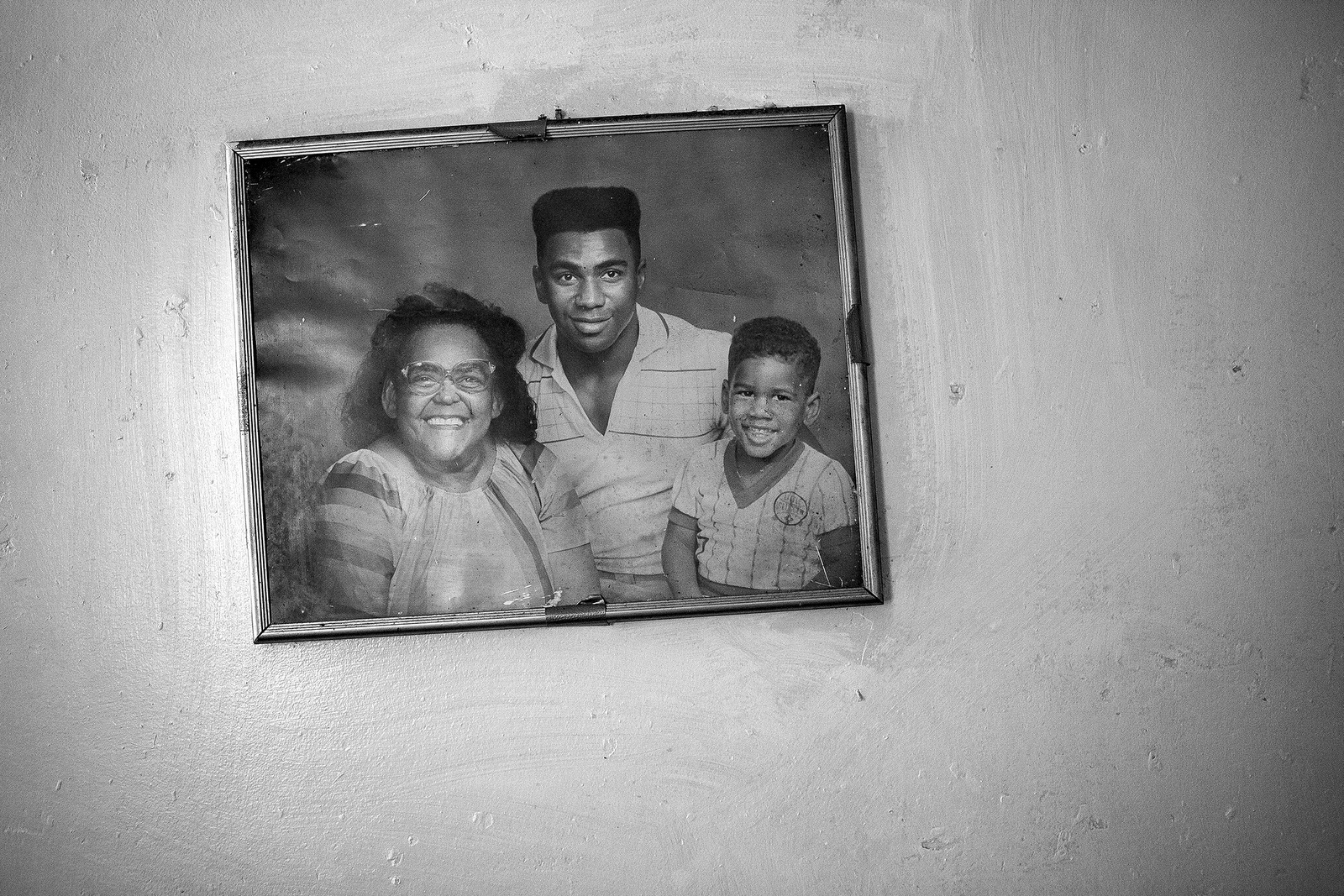 A photo of Catherine Maloney with one of her sons and grandsons hangs at her home in Riviera Beach. Catherine, who is now 91, has lived in the same house for 65 years and raised 10 sons there. Even though the house is in disrepair and not wheelchair accessible for Catherine, she is hesitant to leave the place she has called home for so long.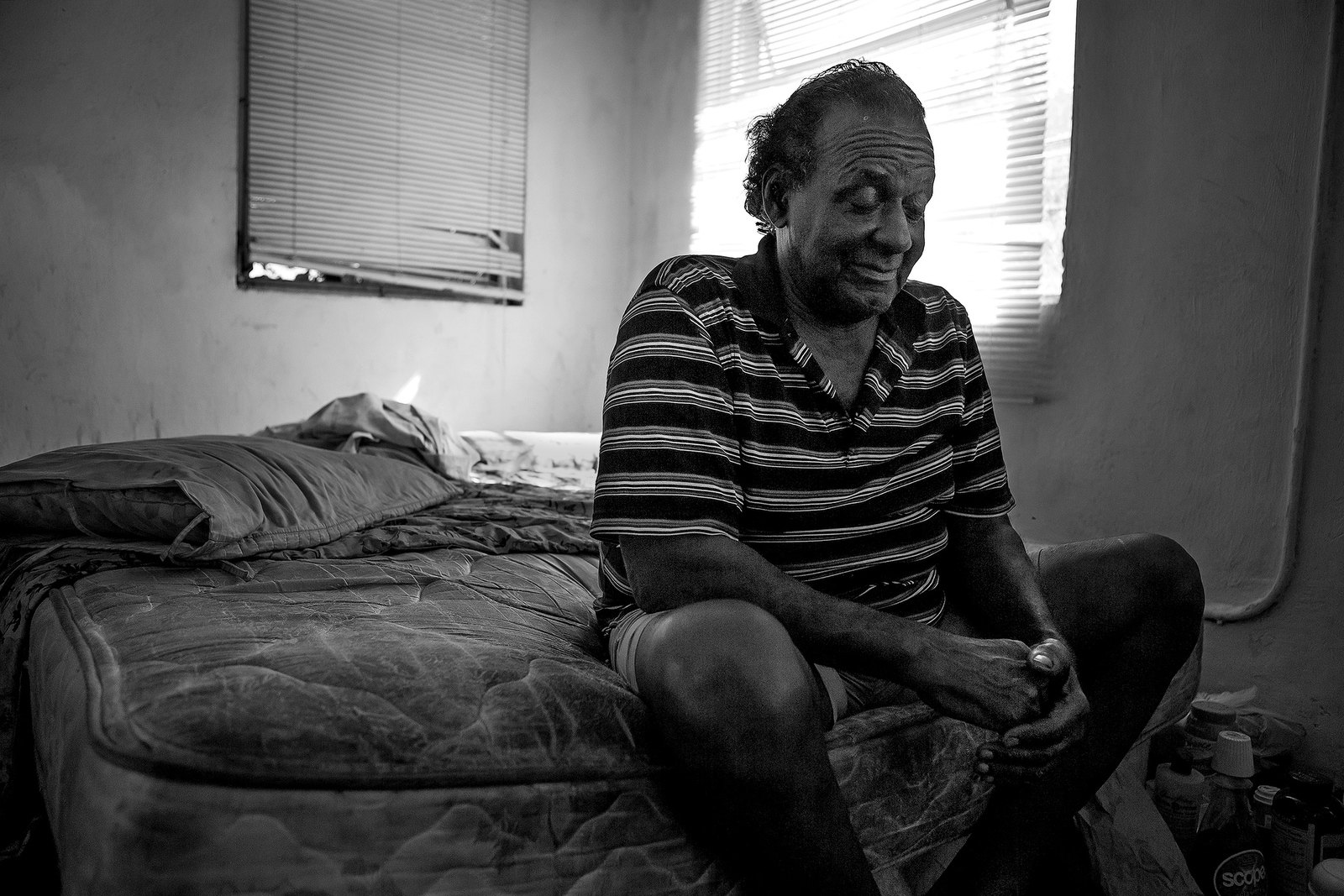 Inman Maloney Jr., 70, sits on his bed in the house he shares with his 91-year-old mother Catherine. Inman and one of his brother have disabilities so Catherine continues to care for them in the house where she raised 10 sons.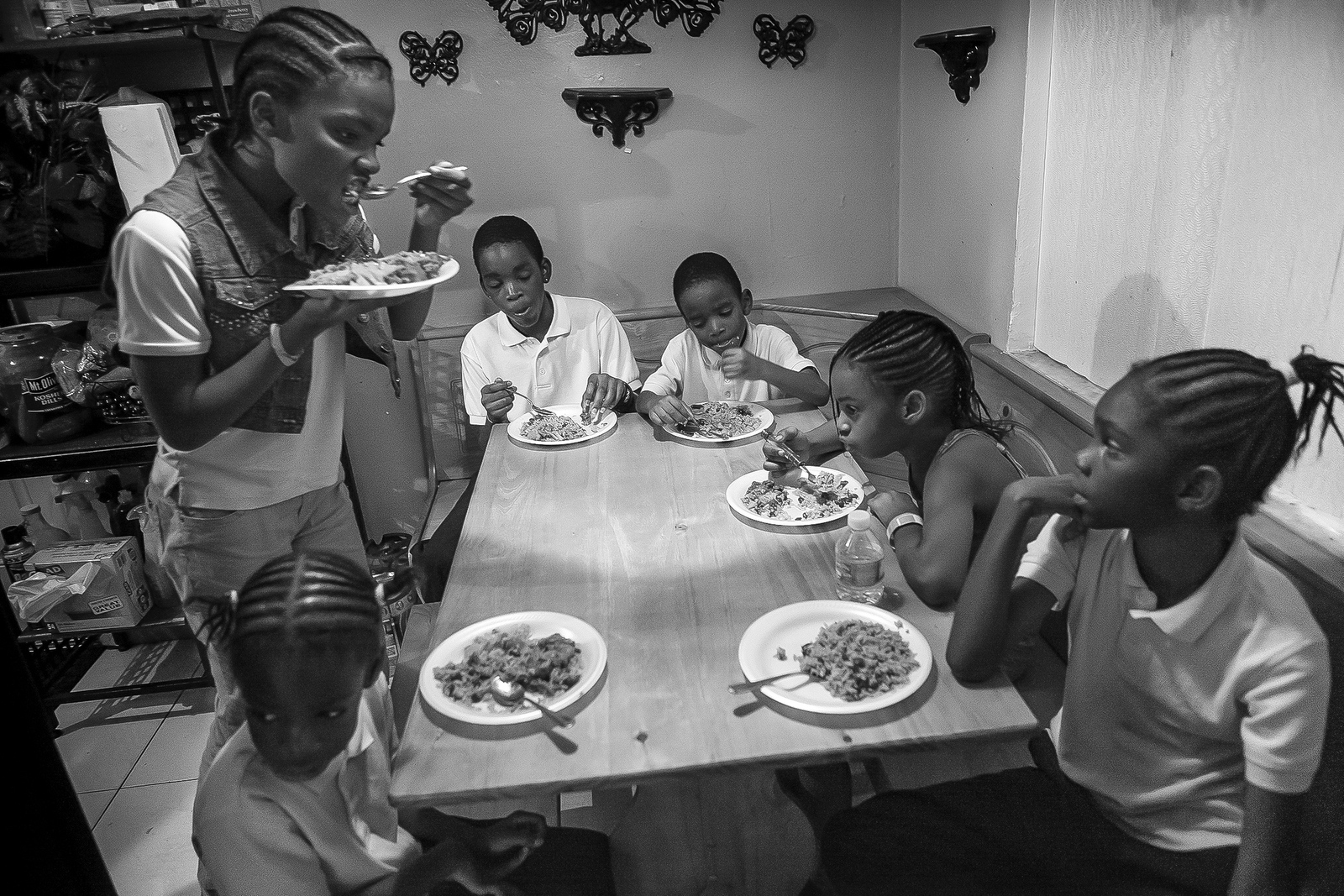 Part of the Fitzgerald family, left to right, Jernyah, Jermiah, Jermaine, Keyshawn, their cousin Joanna Fitzgerald and Jerqueriria squeeze around their grandmother Joann's kitchen table for dinner. Joann adopted six of her grandchildren and is working to gain custody of their older sister as she builds a new life focused around providing the children with a safe, stable environment.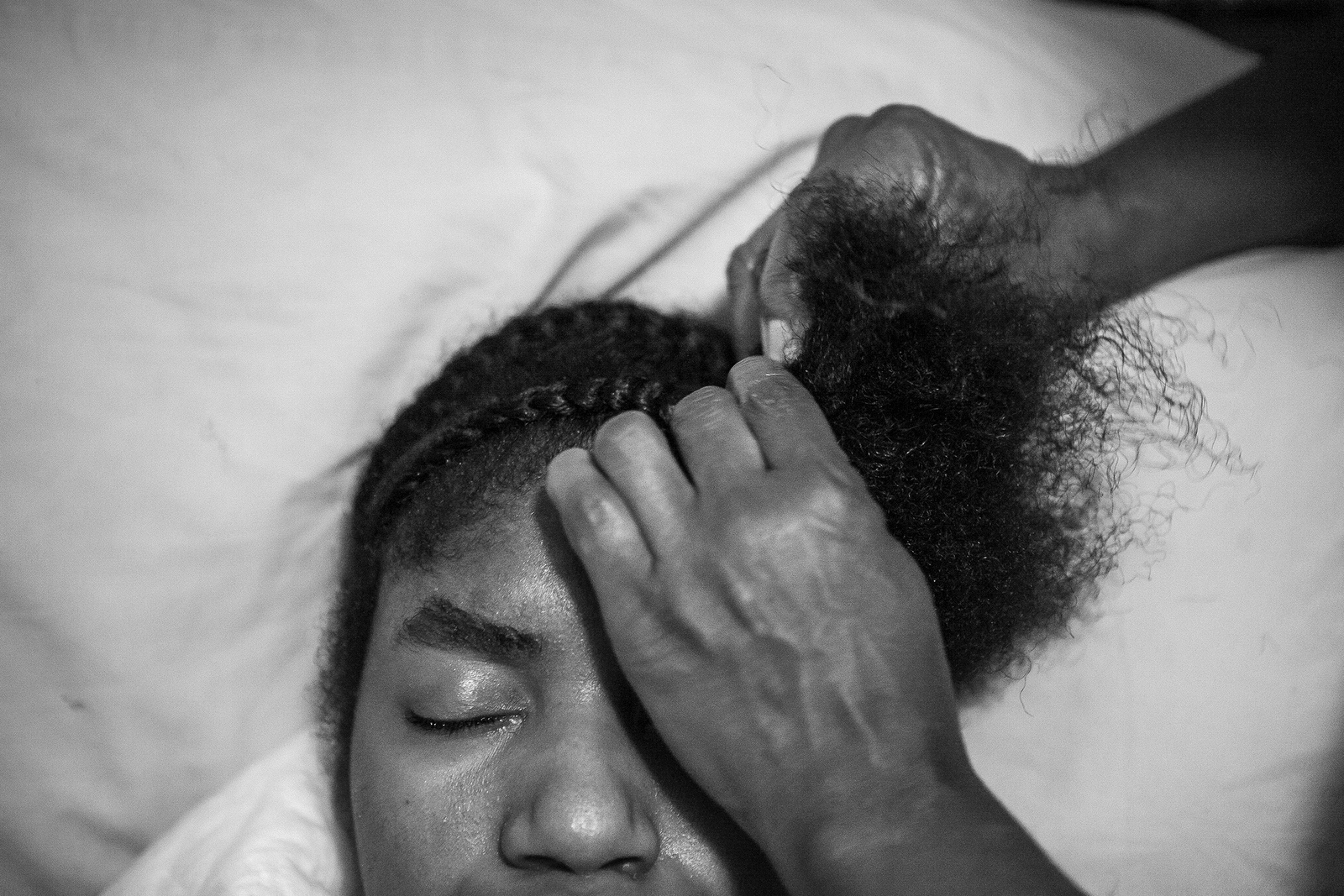 Every morning Aquala's aunt Gayle wakes up hours before she has to go to work in order to clean, feed, dress and sometimes do Aquala's hair in addition to preparing all of the supplies and extra clothes she needs for the day. Aquala has quadriplegic cerebral palsy and Gayle has taken care of her ever since her mother passed away.
Imogene Davis opens the Bible to her favorite Psalm at her house in Belle Glade. Imogene's previous home caught fire and the family lost everything. Imogene says that her faith helps to keep her going, but sometimes she gets overwhelmed and can't stop crying.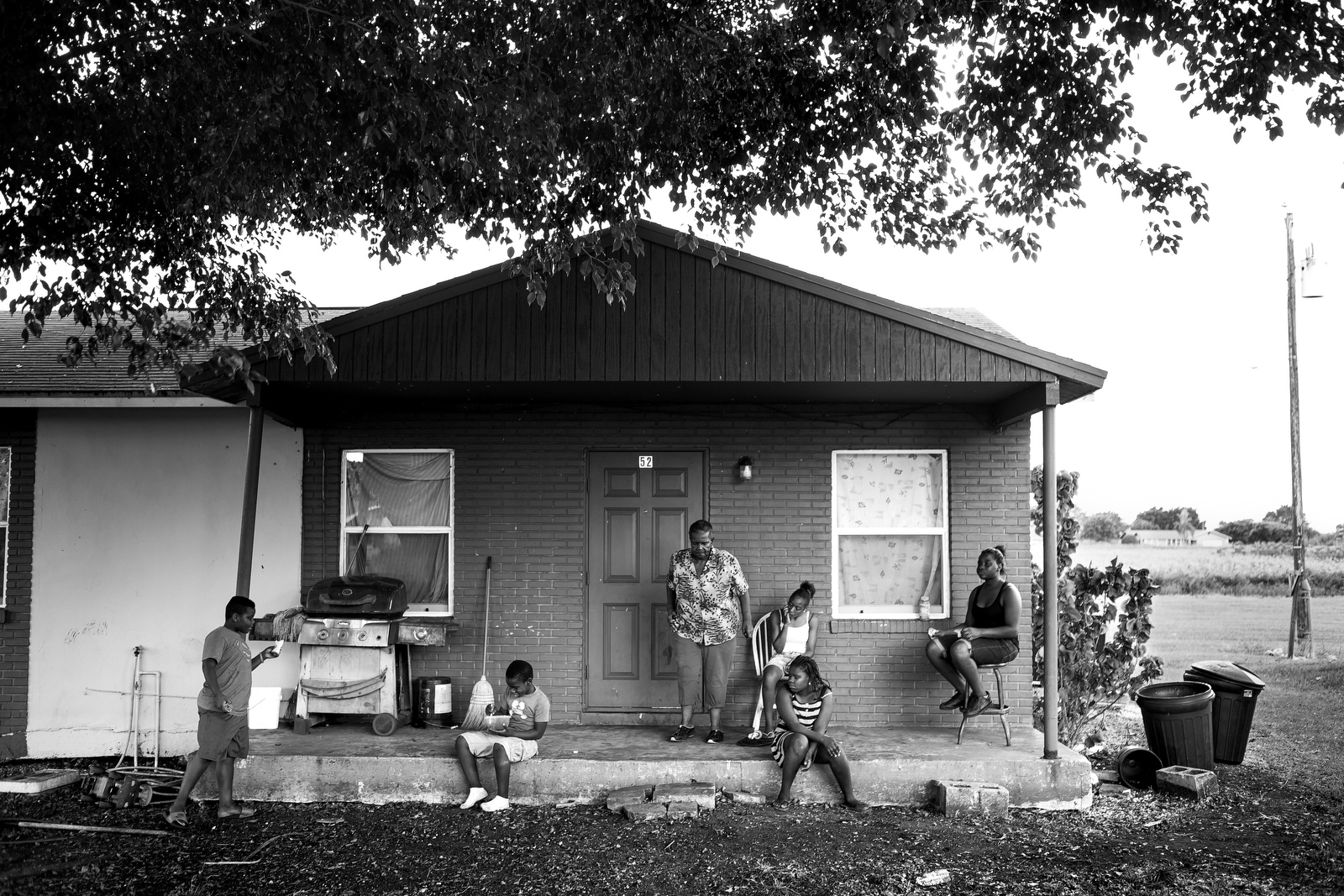 Imogene Davis leaves her house as her grandchildren and their friends sit on the porch. Imogene was a farmworker for the same company for 42 years. Her husband Jimmy Lee Davis still works on a farm but at the age of 64, he will not be able to provide that income for the family much longer.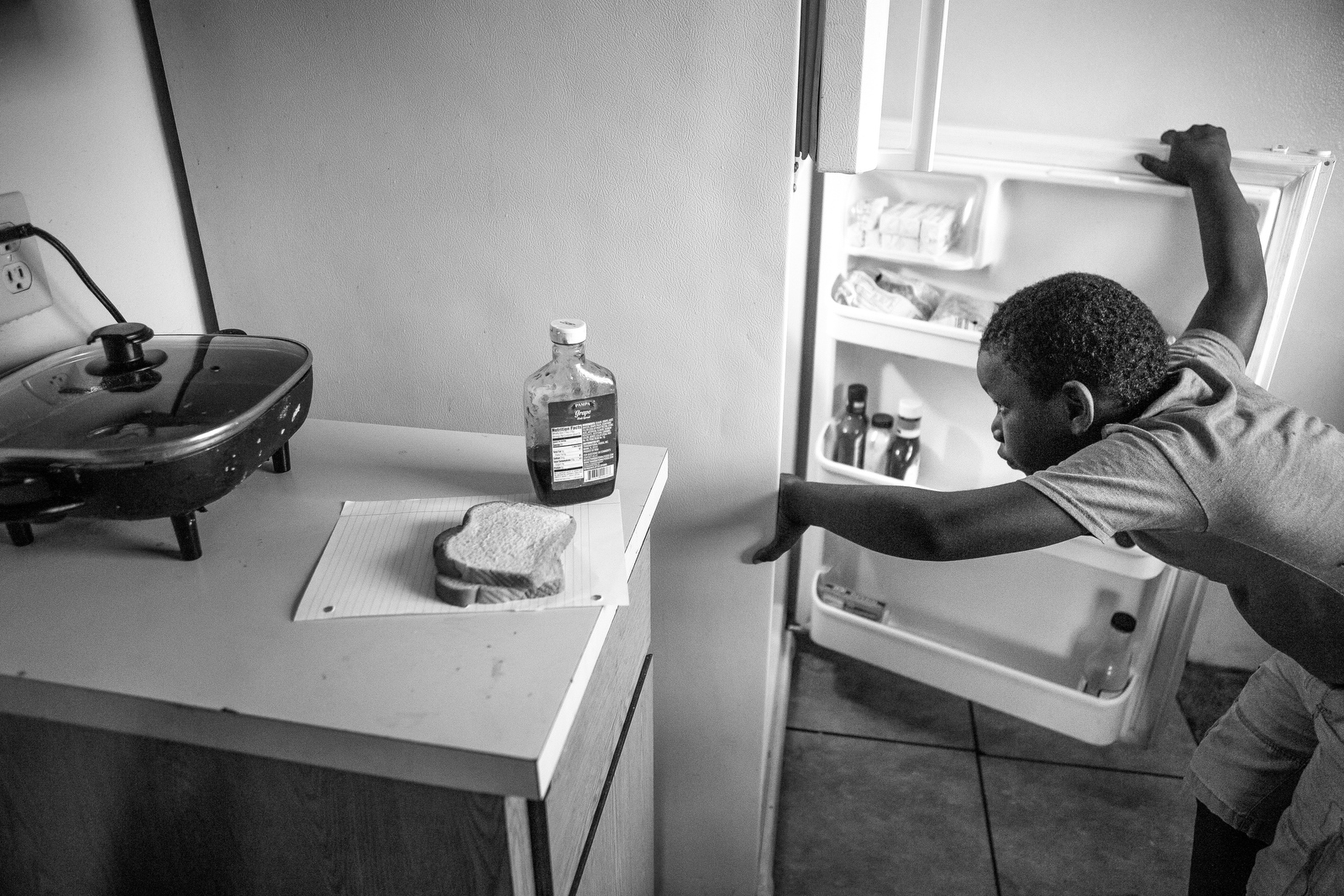 Donald Gibson, 8, checks the refrigerator before making a peanut butter and jelly sandwich at the home where he lives with his grandparents. Their previous home burned down and now Donald's grandmother Imogene only has one electric skillet to cook meal for the family of six. The family subsists primarily on her husband's sole farmworker's salary which means food can sometimes be scarce.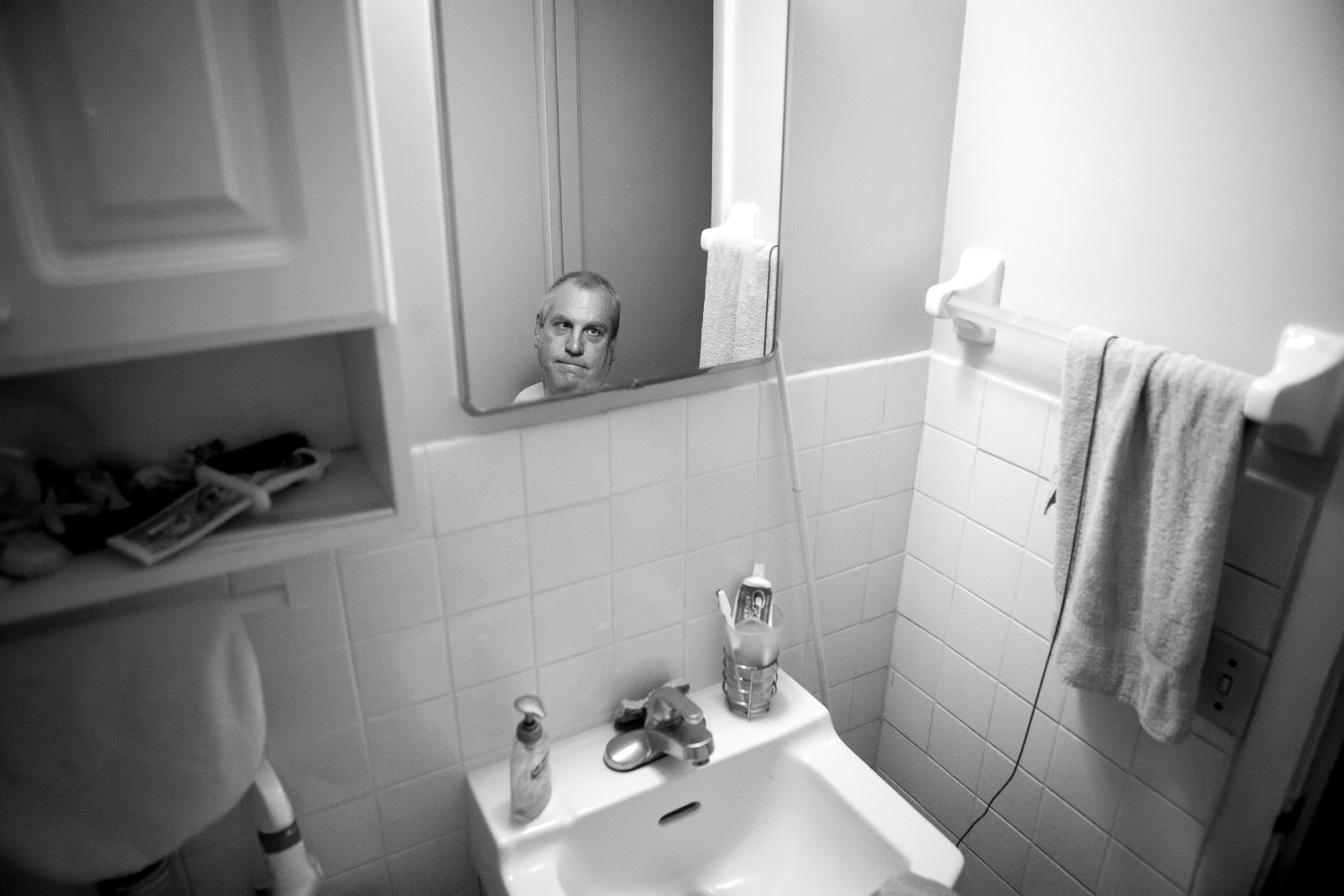 Alan Taylor, 51, who has cerebral palsy and an intellectual disability, has difficulty maneuvering his wheelchair into the small bathroom at the home he shares with his parents Jackie and Russell Taylor. As Alan's parents continue to age, they face more difficulty in caring for their son. Once when Alan fell in the bathroom, his parents could not lift him so it took him three hours to make his way into the living room on his own.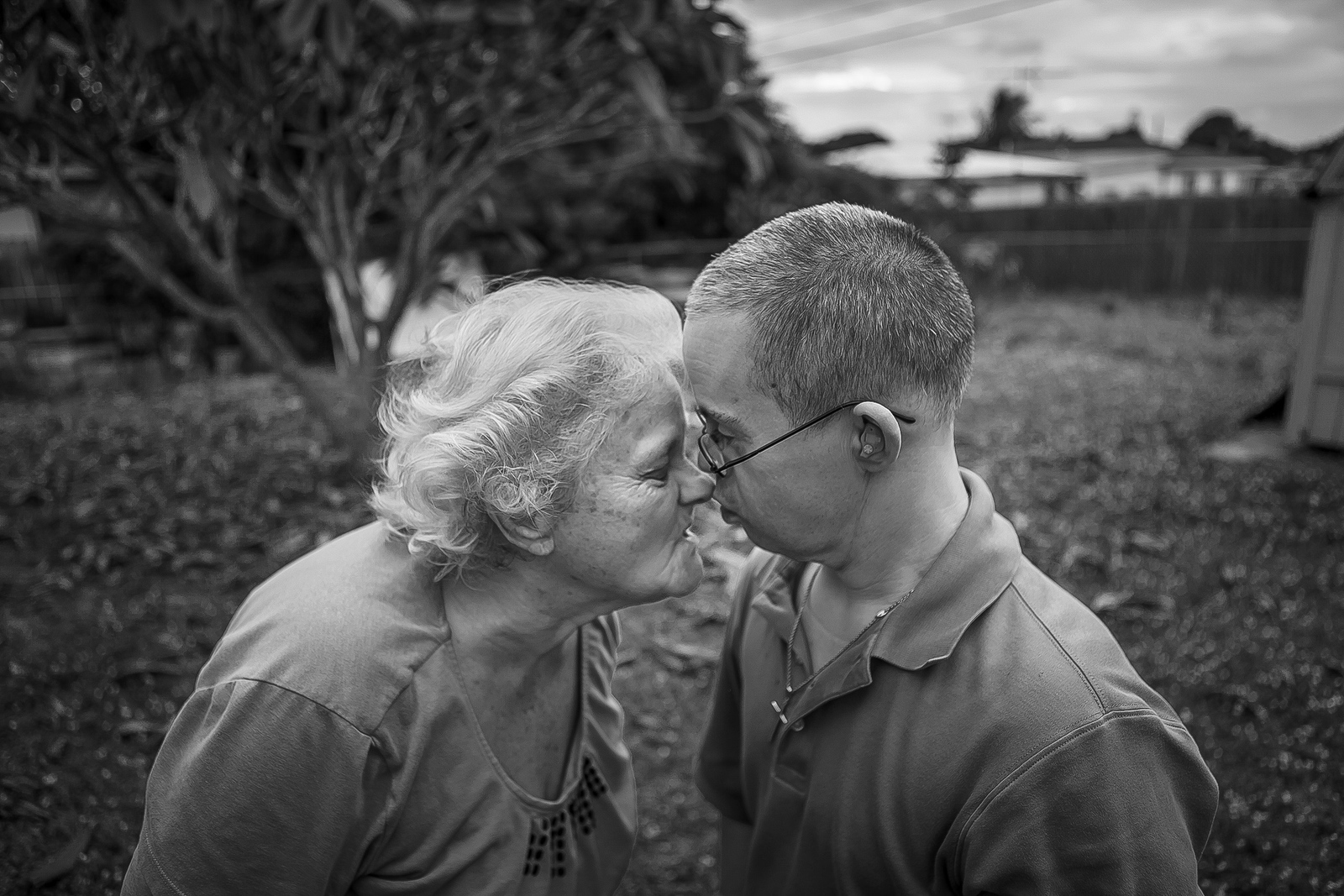 Wanna Tebby, 81, jokes around with her nephew Raymond Hommel, 49, in the backyard of their house. Wanna has taken complete care of Raymond, who has Down syndrome, since he was 14 years old. Wanna worries about both of them needing additional support as they age, but living apart is not an option.